Aria Lattner Club Members get:
A box of curated Aria Lattner jewelry at your doorstep every month
No hidden fees! $49/month includes FREE shipping!
No contract! Cancel anytime, or skip a month with zero fees or limits.
All of this, plus the impeccable customer service you have come to expect from Aria Lattner. 
We don't lock you into a contract or make you jump through hoops to cancel, because we know you won't want to. 😘
---
✔ FREE shipping (all orders)
✔ Typically arrives WITHIN 2-5 BUSINESS DAYS
---
---
✔ FREE shipping (orders over $150 US)
✔ Typically arrives WITHIN 1-3 WEEKS
---
---
---
30 DAY MONEY-BACK GUARANTEE
Love it or return it within 30 days of delivery for a refund or exchange
---
---
---
for all orders to US & Canada (international orders pay return shipping)
---
for all orders (including international)
---
Download and print your own return label HERE
---
---
---
Need to return or exchange an order?
---
---
* Any items sent back to Aria Lattner for returns or exchanges must be in their original or resellable condition, and must not be damaged, tarnished, or visibly altered. Items that do not meet these standards may not be eligible for returns or exchanges.
❄ NO-HASSLE HOLIDAY GIFTS ❄

Every order comes with FREE gift-ready packaging, including:

---
---
SAVED TIME & MONEY ON PACKAGING

Bought the Emmy Ring for my daughter as a birthday gift. It already came pre-packaged and beautifully wrapped.
Thank you for saving me so much time and money!
~ Elizabeth, United States, 04/22/2019
---
---
---
I STILL USE MY JEWELRY BOX

I just purchased a pair of the Rihanna Earrings and I already love them. They came fast with beautiful packaging.
I still use the jewelry box and pouch they came with!
~ Kim, Canada, 10/18/2019
---
---
PERFECT FOR SENDING GIFTS

I'm a monthly club member and I don't spend money on postage or gift wrap anymore since I buy all my gifts here and send them straight to my friends.
The gifts always arrive on time and perfectly gift-wrapped!
~ Quincy, United States, 07/11/2019
---
*Want to include a PERSONAL NOTE in your gift order?

Write it in your ORDER INSTRUCTIONS at checkout and we'll add it!

Payment & Security
Your payment information is processed securely. We do not store credit card details nor have access to your credit card information.
Customer Reviews
Feel like it's my BIRTHDAY once a MONTH!!!!
I have been getting this subscription for almost a year now and I LOVE all of the jewelry that I've received. Some I love more than others - but I've only returned something once. My granddaughters have gotten the benefit of me having this, as they have gotten some really nice gifts for their birthdays.... The people at Aria Lattner are fabulous. Any problems I've had, they have fixed as soon as they could. I lost an earring one time and when I asked if I could buy one to replace it, they sent it to me! So glad I'm a part of this fabulous company. I wait for the mail every month now! Love getting my present!!!!! Sunny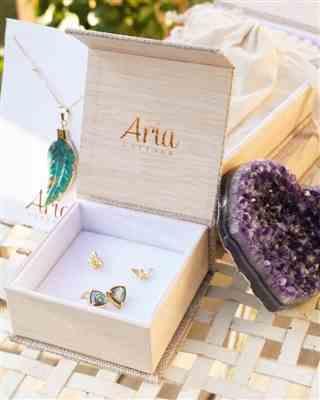 She's happy so I'm happy...
My fiance is happy. She's loved all 5 gifts so far. Brownie points for me every month. Thank you!
03/16/2019
Anonymous
United States
stone of the month
i feel it would work better for your members if it was possible to define preferences such as gold or silver as jewellery is such a personal thing. Unfortunately the two I have received have not resonated with me at all.
Your point is well-received -- this is coming soon to all members! Also, please notice in your account, under "Manage Subscriptions", you can "Swap" any given box if it isn't your style. Thanks, Patty
03/08/2019
Krystal
United States
Happy, Happy!
People stop me everywhere and ask where I get my jewelry, and I am always happy to share Aria Lattner! Makes me feel like such an insider ;) plus, I've gotten so many rewards points from referring friends... more points = more free jewelry!!!!
02/20/2019
Anonymous
United States